Imagine being able to change your state of mind – with the simple click of a button.  Get focused, Become happier, even sleep better.  By merely slipping on your headphones, you can watch your mental state shift within minutes.  Who could resist being able to control how they feel just by listening to an audio?
What is the Brain Salon
Power Chill  
Whenever you need a break from a stressful situation to really recharge those batteries.
Creative Spark
Whenever you need a little inspiration, and you want to think like a genius.
Ultra Deep Sleep
Whenever you just need a really great night's sleep
High Energy Espresso
Whenever you need that physical and mental edge, whenever you need to sharpen your presence.
Happy Pill
Whenever you want to really boost your happiness levels.
Razor Sharp
Whenever you want to put your mind into super focus mode.

Delving into 'The Brain Salon Zone'
The Brain Salon website explains everything in detail. Every state of mind has a unique electrical signature that can be detected in the brain. These signatures are known as "brainwaves." Using specialized equipment, these waves can be measured and recorded. That allows scientists to map what brainwave patterns are present during certain key states of mind.
The Brain Salon sessions use special inaudible pulses, mixed into the music to recreate these states of mind. The technology is completely safe and backed by almost 100 years of brainwave research.
Exploring the Brain Salon Sessions
I decided to explore the  Brain Salon series, with great results.
I used "Happy Pill" one evening to dig myself out of a bad mood – and get myself feeling peppy for the party night ahead.   It allowed me to rise to the occasion.
And it doesn't stop there, using "High Energy Espresso" will really give you a burst of energy for any situation.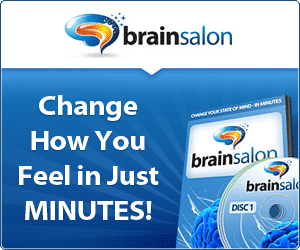 I use "Creative Spark" – when I want to triple the number of business ideas I produce each week.
Power Chill is the ideal replacement for a glass of wine after work. It helps you to relax, chill out, and recharge those batteries for the evening ahead.
And all you have to do is hit the "Play" button to activate. Arthur C. Clarke said that "Any sufficiently advanced technology is indistinguishable from magic." And Yes, the advanced technology used within the Brain Salon, really does work like magic.
Overall I'm impressed. The Brain Salon works, the price is about right, and it has improved my life in a number of ways .
In conclusion, I give the Brain Salon ……….two thumbs up!
Become part of the Top 5% http://DavidWisdom.com/bes